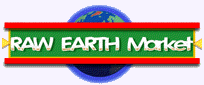 RAW EARTH Market Affiliates
Body-Friendly Foods ~ Earth-Friendly Goods
Below you will find links to suppliers of products that we either have interest in, use their products, or endorse. We are always on a quest to find the best sources for great foods and products, while minimizing impact to the Earth. Please let us know if you have any questions about any of these resources. Email us at info@rawearthmarket.com .
---

The Live Food Factor: The Comprehensive Guide to the Ultimate Diet for Body, Mind, Spirit & Planet
This 660-page book is split into four sections: section one overviews the benefits of going raw; two showcases the scientific reasons for going raw; three highlights the raw movement's history and its leadership; and four is a complete how-to manual. The book was awarded "Most Progressive Health Book of the Year" from the 2006 Independent Publisher Book Awards Outstanding Books of the Year.
Reviews:
" No longer will folks have to buy 15 books to begin the process. I wish I had this during the beginning of my journey."
—Dana Pettaway, raw food chef
Susan Schenck has written the most complete raw food resource book in existence!!! She backs up her work with a comprehensive list of scientific studies, all while remaining objective in areas where studies differ. Her writing style exudes a great passion, making this tome a great read!! "The Live Food Factor, is a "must have" reference book for anyone looking into a living foods lifestyle.
—Kevin Wolf, raw foodist, from rawearthmarket.com
"This is the most extensive, inspiring and useful resource on the raw food diet you will ever read. It is loaded with tips, tools, tricks and advice that will change your thinking and your health forever."
—Frederic Patenaude, author, The Raw Secrets and Instant Raw Sensations
"The Live Food Factor by Susan Schenck is by far the most complete raw food book available on the market today. Susan has compiled a multitude of vital information from 50 scientific studies which clearly show the advantages of a raw food diet vs. the typical, hazardous cooked food diet. She also includes a "how to" section that has various strategies for transitioning to the raw food diet, valuable information on detoxification, how to travel and socialize on raw and living foods and much more!"
—Alex Malinsky of rawguru.com and rawfoodchat.com
---

Raw For Life is an A-to-Z encyclopedia of Raw Food, perfect for beginners and Raw Food enthusiasts.
I have to let you know about some REALLY exciting news. Many of you may have heard about the making of the raw food film "Raw for 30 Days" that has been in production for the last three years.

I'm excited to let you know that the film, now retitled "Simply Raw: Reversing Diabetes in 30 Days", has finally launched!

And the exciting news is...it's a GREAT film! If you haven't seen the trailer yet click here:

The film features experts David Wolfe, Dr. Gabriel Cousins, Tony Robbins and many others. It is a MUST SEE, especially for anyone who is diabetic or pre-diabetic (or anyone who has a diabetic friend in their life!).

The film documents 6 diabetics going through a 30 day raw food cleanse. The results are amazing!

Make sure to also check out some of the clips from the "Raw for Life" program on the site.

---

Food Matters is a feature length documentary film informing you on the best choices you can make for you and your family's health.

Are you sick and tired of being sick and tired?
Learn from the Leaders in Nutrition and Natural Healing from around the globe in a Mission to Uncover the truth.
Prevent Illness, Reverse Disease & Maintain Optimal Health... Naturally
---

Mike Adams, The Health Ranger, offers his extensive private research library, at Truth Publishing. Mike has authored more than 1,600 articles on health, interviewed today's greatest pioneers in alternative medicine, and completed dozens of books and special reports on the subject.
Along with TruthPublishing.com, Mike founded NaturalNews.com, an online news source covering all areas of personal and planetary wellness from nutrition to renewable energy. Here, he's written thousands of articles and built a following of over 800,000 people across the globe.
Mike also founded a non-profit organization, The Consumer Wellness Center.
---

Stay with us as this site grows and matures. Please bookmark this page and come back often. We will strive to provide you with the best information to make decisions about products that you need for everyday life and about the foods you eat. We will examine legends, myths, "tried, tested and true", and the latest developments and trends in Body-Friendly Foods and Earth-Friendly Goods.
Tell us what info you are looking for! Feel free to email us at suggestions@rawearthmarket.com with comments or suggestions...